The Tri-City News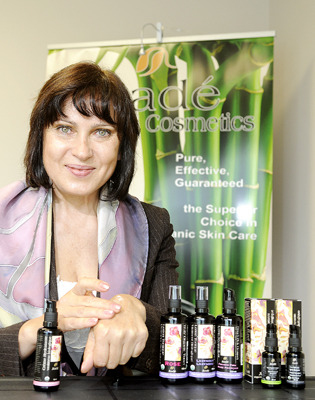 A small Port Coquitlam company hopes to make big waves in the multi-million dollar skin care industry with an organic product line that recently won USDA approval.
Jiadé Organic Cosmetics has won the US Department of Agricultural organic stamp of approval for its entire line of products, which means the small business owned by partners Walter Dullemond and Eva Savova can now expand into the lucrative U.S. market.
"It's the gold standard," Dullemond admits, and it gives him a sense of accomplishment to achieve that goal so soon after launching the business.
Dullemond and Savova have spent the last two years developing a line of skin care products that includes moisturizers, cleansers and toners for all skin types using their experience in the fields of microbiology and chemistry.
But rather than adopting organic principles late in the game, they started out using only natural, organic ingredients right from the start.
"In essence these products are food grade," said Dullemond, who explained that he and Savova were committed to using only organic ingredients and learned from the food industry how to maintain exacting production standards.
The two also run a food consultancy business and some of the impetus for their expansion into skin care came from their desire to commercialize research they've done on the use of essential oils to preserve food.
When they started researching the USDA requirements they learned that very few Canadian businesses have sought the U.S. stamp of approval. That didn't deter them. They located a U.S. company that audits for the organics industry, filed the requisite papers and demonstrated their procedures to the auditor from Oregon Tilth, a non-profit research and education organization certifying organic farmers, processor, retailers and handlers.
In August, they were certified.
"The USDA (certification) is an enormous benefit," acknowledged Dullemond, who said his company has now signed up a representative who will market Jiadé in the U.S. and Canada.
Savova, who uses the skin care products and tries them out on her daughter, learned from her grandmother back in Bulgaria that plants can heal. "I knew what she said is true. I never questioned this, I knew she was always close to the earth and wise."
With her chemistry background, Savova was able to research the properties of various natural ingredients and mixed them to create skin care products for specific skin types. Then she tested them on friends and family.
In the Jiadé line, there are no chemicals with unpronounceable names. Every product, from eye balms to toners are made from essential oils such as lavender, rose and geranium and other natural products such as bees wax and shea butter (for more details visit www,jiadécosmetics.com.)
The products are all made by hand in small batches and put in recyclable MIRON Violet Glass to preserve the ingredients from destructive light sources.
Savova said she chose MIRON glass, which tests found kept strawberries berries fresh for three months, to avoid having to use chemical preservatives.
All the ingredients are 100% organic not just one or two, as in some products, and they are free of synthetic chemicals, fragrances waxes or colours.
After developing the skin care products, the partners developed a website, designed their product labels, found packaging made of 100% post-consumer cardboard, and started looking around for distributors.
But promoting a chemical-free lifestyle is not their only goal. Jiadé was founded on ethical principles, which includes buying Fair Trade ingredients, such as shea butter from African women, and sourcing local ingredients where possible. Some of the essential oils, such as raspberry seed, grape seed and hazelnut oils come from Agassiz.
As well, a portion of every sale is donated to SOS Children's Villages, a non-profit organization that provides housing, shelter, food and education to thousands of children in underprivileged countries.
"It (donating to SOS Children's Villages) is not a second place, it's actually something that's keeping us focused and on the right path," Savova explained.
The couple, who are partners in business only, say the skin care industry is huge and they want to make a small inroad if they can to spread the message of healthy living. Perhaps, other Canadian manufacturers will join them on their journey.
dstrandberg@tricitynews.com